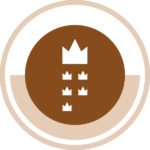 It would often go hard with us if God did not take more care of us,
both for body and soul, than we take for ourselves.
For reasons which He alone knows, God sometimes puts victories in the hands of those who are not faithful to Him.
1 Now Jehoram the son of Ahab began to reign over Israel in Samaria the eighteenth year of Jehoshaphat king of Judah, and reigned twelve years.

2 And he wrought evil in the sight of the LORD; but not like his father, and like his mother: for he put away the image of Baal that his father had made.

3 Nevertheless he cleaved unto the sins of Jeroboam the son of Nebat, which made Israel to sin; he departed not therefrom.

4 ¶ And Mesha king of Moab was a sheepmaster, and rendered unto the king of Israel an hundred thousand lambs, and an hundred thousand rams, with the wool.

5 But it came to pass, when Ahab was dead, that the king of Moab rebelled against the king of Israel.

6 ¶ And king Jehoram went out of Samaria the same time, and numbered all Israel.

7 And he went and sent to Jehoshaphat the king of Judah, saying, The king of Moab hath rebelled against me: wilt thou go with me against Moab to battle? And he said, I will go up: I am as thou art, my people as thy people, and my horses as thy horses.

8 And he said, Which way shall we go up? And he answered, The way through the wilderness of Edom.

9 So the king of Israel went, and the king of Judah, and the king of Edom: and they fetched a compass of seven days' journey: and there was no water for the host, and for the cattle that followed them.

10 And the king of Israel said, Alas! that the LORD hath called these three kings together, to deliver them into the hand of Moab!

11 But Jehoshaphat said, Is there not here a prophet of the LORD, that we may enquire of the LORD by him? And one of the king of Israel's servants answered and said, Here is Elisha the son of Shaphat, which poured water on the hands of Elijah.

12 And Jehoshaphat said, The word of the LORD is with him. So the king of Israel and Jehoshaphat and the king of Edom went down to him.

13 And Elisha said unto the king of Israel, What have I to do with thee? get thee to the prophets of thy father, and to the prophets of thy mother. And the king of Israel said unto him, Nay: for the LORD hath called these three kings together, to deliver them into the hand of Moab.

14 And Elisha said, As the LORD of hosts liveth, before whom I stand, surely, were it not that I regard the presence of Jehoshaphat the king of Judah, I would not look toward thee, nor see thee.

15 But now bring me a minstrel. And it came to pass, when the minstrel played, that the hand of the LORD came upon him.

16 And he said, Thus saith the LORD, Make this valley full of ditches.

17 For thus saith the LORD, Ye shall not see wind, neither shall ye see rain; yet that valley shall be filled with water, that ye may drink, both ye, and your cattle, and your beasts.

18 And this is but a light thing in the sight of the LORD: he will deliver the Moabites also into your hand.

19 And ye shall smite every fenced city, and every choice city, and shall fell every good tree, and stop all wells of water, and mar every good piece of land with stones.

20 And it came to pass in the morning, when the meat offering was offered, that, behold, there came water by the way of Edom, and the country was filled with water.

21 ¶ And when all the Moabites heard that the kings were come up to fight against them, they gathered all that were able to put on armour, and upward, and stood in the border.

22 And they rose up early in the morning, and the sun shone upon the water, and the Moabites saw the water on the other side as red as blood:

23 And they said, This is blood: the kings are surely slain, and they have smitten one another: now therefore, Moab, to the spoil.

24 And when they came to the camp of Israel, the Israelites rose up and smote the Moabites, so that they fled before them: but they went forward smiting the Moabites, even in their country.

25 And they beat down the cities, and on every good piece of land cast every man his stone, and filled it; and they stopped all the wells of water, and felled all the good trees: only in Kir-haraseth left they the stones thereof; howbeit the slingers went about it, and smote it.

26 ¶ And when the king of Moab saw that the battle was too sore for him, he took with him seven hundred men that drew swords, to break through even unto the king of Edom: but they could not.

27 Then he took his eldest son that should have reigned in his stead, and offered him for a burnt offering upon the wall. And there was great indignation against Israel: and they departed from him, and returned to their own land.
2 Kings 3:1-12 – ​An Unwise Alliance.
​
   Jehoram's reign over the ten tribes was marked by some measures of reform. He discountenanced Baal worship; though, in defiance of the Second Commandment, he clave to Jeroboam's calves. Therefore Jehoshaphat was ill-advised to enter into alliance with him. The servant of Jehovah had no right to say to such a man, "I am as thou art," etc. He had said this before, and narrowly escaped with his life. It was very bad, therefore, to repeat a policy which was already discredited (1 Kings 22:4).
   How often we rush into alliances and undertake engagements without prayer for guidance, and begin to seek God only when faced with disappointment! In the day of sore trouble, when it seemed likely that kings and troops would perish in the waterless desert, Judah sought divine help. Bit it was foolish and wrong to charge the Lord with their disasters, as in v. 10. When the curtains of the night are drawn, sailors steer by the stars; and often it is the pressure of dark trials that drives men to seek the advice and help of the servants of God. They know where to find such helpers, when they want them, though in their prosperity they ignore and deride. He who is willing to pour water, as a servant, will not be inflated with pride when three kings visit him.
2 Kings 3:13-27 – ​Mesha's Defeat and Desperate Sacrifice.
​
   Jehoshaphat, though erring, was still God's child, and deliverance came to him. The heights of our senseless folly and the depths of our waywardness will not succeed in severing us from God's love. Elisha used the very words of Elijah (v. 14 and 1 Kings 17:1). Notice how men of different mold and mission, the Elijahs and the Elishas, derive their inspiration and strength in the same way. As a great Christian general put it, "Every morning I stand at attention before my Maker." Note the effect of music in soothing the soul (v. 15)!
   In all God's gifts there is need for our co-operation. He alone can send the water, but we must trench the ground. Our expectant faith creates the capacity to receive God's gifts; but when we have gone to our limit and the valley is filled with ditches, he is able to do exceeding abundantly beyond. The answer came at the hour of morning prayer, and probably at the prophet's intercession (1 Kings 8:44). God's answers are often too deep and inward to give outward sign. There is sound of neither wind nor rain; but our prayers are answered to the full. Many of the points in this narrative – notably v. 27 – have been corroborated by the explorations in Moab.
2 Kings 3:17—Ye shall not see wind, neither shall ye see rain; yet that valley shall be filled.

   This is God's way of fulfilling the desire of them that fear Him. We like to see the clouds blown forward through the sky, and hear the moan of the rising wind; in other words, we like to see God's gifts on their way, or to have the sensible emotion of receiving them. Sometimes we have symptoms and signs that fill us with rapture; at other times, these are lacking; and we surrender ourselves to despair. Yet when we see neither wind nor rain, God may be most mightily at work.
   It is so in Church work.— How often we make our valleys full of ditches! Our machinery is complicated and perfect; we have spread neither pains nor care. Then we ardently desire the signs of a powerful revival, and break our hearts if they are not apparent; while, all the time, if we only knew it, the Divine blessing is welling up in the ditches, doing more than would be the case if our highest wishes were gratified. Here and there tears are falling silently, hearts are being cleansed, lives are becoming yielded to God.
   It is so in Christian experience.— We expect to have our Pentecost as the early Church received hers. We desire to see wind and rain, and to know that God is baptizing us; but this is not granted. There is no footfall of hurrying clouds, no coronet of flame, no gift of tongues. But, deep down, the ditches are being filled up, yearnings are being satisfied, the capacity for God within us is being met, though it grows apace. God be praised that the success of His work is not gauged by outward signs!
   A well may be filled as completely by the percolation of water, a drop at a time, as by turning a river into it.