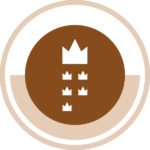 There is spiritual peace and joy and a holy security for all faithful subjects of God's Anointed One.
1 So king Solomon was king over all Israel.

2 And these were the princes which he had; Azariah the son of Zadok the priest,

3 Elihoreph and Ahiah, the sons of Shisha, scribes; Jehoshaphat the son of Ahilud, the recorder.

4 And Benaiah the son of Jehoiada was over the host: and Zadok and Abiathar were the priests:

5 And Azariah the son of Nathan was over the officers: and Zabud the son of Nathan was principal officer, and the king's friend:

6 And Ahishar was over the household: and Adoniram the son of Abda was over the tribute.

7 ¶ And Solomon had twelve officers over all Israel, which provided victuals for the king and his household: each man his month in a year made provision.

8 And these are their names: The son of Hur, in mount Ephraim:

9 The son of Dekar, in Makaz, and in Shaalbim, and Beth-shemesh, and Elon-beth-hanan:

10 The son of Hesed, in Aruboth; to him pertained Sochoh, and all the land of Hepher:

11 The son of Abinadab, in all the region of Dor; which had Taphath the daughter of Solomon to wife:

12 Baana the son of Ahilud; to him pertained Taanach and Megiddo, and all Beth-shean, which is by Zartanah beneath Jezreel, from Beth-shean to Abel-meholah, even unto the place that is beyond Jokneam:

13 The son of Geber, in Ramoth-gilead; to him pertained the towns of Jair the son of Manasseh, which are in Gilead; to him also pertained the region of Argob, which is in Bashan, threescore great cities with walls and brasen bars:

14 Ahinadab the son of Iddo had Mahanaim:

15 Ahimaaz was in Naphtali; he also took Basmath the daughter of Solomon to wife:

16 Baanah the son of Hushai was in Asher and in Aloth:

17 Jehoshaphat the son of Paruah, in Issachar:

18 Shimei the son of Elah, in Benjamin:

19 Geber the son of Uri was in the country of Gilead, in the country of Sihon king of the Amorites, and of Og king of Bashan; and he was the only officer which was in the land.

20 ¶ Judah and Israel were many, as the sand which is by the sea in multitude, eating and drinking, and making merry.

21 And Solomon reigned over all kingdoms from the river unto the land of the Philistines, and unto the border of Egypt: they brought presents, and served Solomon all the days of his life.

22 ¶ And Solomon's provision for one day was thirty measures of fine flour, and threescore measures of meal,

23 Ten fat oxen, and twenty oxen out of the pastures, and an hundred sheep, beside harts, and roebucks, and fallowdeer, and fatted fowl.

24 For he had dominion over all the region on this side the river, from Tiphsah even to Azzah, over all the kings on this side the river: and he had peace on all sides round about him.

25 And Judah and Israel dwelt safely, every man under his vine and under his fig tree, from Dan even to Beer-sheba, all the days of Solomon.

26 ¶ And Solomon had forty thousand stalls of horses for his chariots, and twelve thousand horsemen.

27 And those officers provided victual for king Solomon, and for all that came unto king Solomon's table, every man in his month: they lacked nothing.

28 Barley also and straw for the horses and dromedaries brought they unto the place where the officers were, every man according to his charge.

29 ¶ And God gave Solomon wisdom and understanding exceeding much, and largeness of heart, even as the sand that is on the sea shore.

30 And Solomon's wisdom excelled the wisdom of all the children of the east country, and all the wisdom of Egypt.

31 For he was wiser than all men; than Ethan the Ezrahite, and Heman, and Chalcol, and Darda, the sons of Mahol: and his fame was in all nations round about.

32 And he spake three thousand proverbs: and his songs were a thousand and five.

33 And he spake of trees, from the cedar tree that is in Lebanon even unto the hyssop that springeth out of the wall: he spake also of beasts, and of fowl, and of creeping things, and of fishes.

34 And there came of all people to hear the wisdom of Solomon, from all kings of the earth, which had heard of his wisdom.
1 Kings 4:1-7, 20-22 – ​A Prosperous Nation
​
   What a picture is here given of national contentment and prosperity! We can almost hear the gladsome voice of the myriad-peopled land, teeming with young life and laden with golden harvests. It was the summer of their national existence. The sacred scribe enumerates first the high officials of the court, then the daily provision of the king, his studies, and his fame. Abundant proof was yielded by all these circumstances to the manner in which God kept the pledges which had been made to David, his father.
   Here is Solomon "in all his glory" (Matthew 6:29; Luke 12:27), but as we turn from him to the lowly Carpenter of Nazareth, who had nowhere to lay His head; who found His friends among the poor; and who ultimately laid down His life a ransom for many, we realize that, even apart from His divine nature, His was the nobler ideal and the richer existence. "A greater than Solomon is here" (Matthew 12:42; Luke 11:31). Who can measure His empire or resources? What tongue can recount His wisdom? Happy and safe are they that sit at His table, hear His words, and are joint-heirs with Him in His Kingdom! Romans 8:17.
1 Kings 4:29—Largeness of heart.

   We must all admit that our soul is too narrow. It holds too little, knows too little, is deficient in willpower, and, above all, in capacity of love; and when we are called to run in the way of God's commandments, we break down in despair, and cry, "If I am to be a runner, Thou must first enlarge my heart."
   How little we know of the experience which Madame Guyon describes when she says: "This vastness or enlargedness, which is not bounded by anything, increases every day; so that my soul in partaking of the qualities of her Spouse seems also to partake of his immensity."
   "There is," remarks one of the old Puritans, "a straitness, slavery, and narrowness, in all sin; sin crumples up our souls; which, if they were freely spread abroad, would be as large and wide as the whole universe. No man is truly free; but be that hath his will enlarged to the extent of God's will, by loving whatsoever God loves, and nothing else, he enjoys boundless liberty, and a boundless sweetness." God's love embraces the universe. He "so loved the world, that he gave his only begotten Son" (John 3:16). We who have partaken of the Divine nature must also love as He does.
   Thomas a Kempis says, finally: "He who desires glory in things outside of God, or to take pleasure in some private good, shall many ways be encumbered and straitened; but if heavenly grace enter in, and true charity, there will be no envy, neither narrowness of heart, neither will self love busy itself, for Divine charity overcometh all things, and enlargeth all the powers of the soul." Give unto us, O God, this largeness of heart, even as the sand that is on the sea shore.