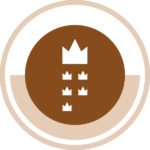 That fame is true fame which has associated with it the name of the Lord and which challenges inquiry into the means of God's grace.
1 And when the queen of Sheba heard of the fame of Solomon concerning the name of the LORD, she came to prove him with hard questions.

2 And she came to Jerusalem with a very great train, with camels that bare spices, and very much gold, and precious stones: and when she was come to Solomon, she communed with him of all that was in her heart.

3 And Solomon told her all her questions: there was not any thing hid from the king, which he told her not.

4 And when the queen of Sheba had seen all Solomon's wisdom, and the house that he had built,

5 And the meat of his table, and the sitting of his servants, and the attendance of his ministers, and their apparel, and his cupbearers, and his ascent by which he went up unto the house of the LORD; there was no more spirit in her.

6 And she said to the king, It was a true report that I heard in mine own land of thy acts and of thy wisdom.

7 Howbeit I believed not the words, until I came, and mine eyes had seen it: and, behold, the half was not told me: thy wisdom and prosperity exceedeth the fame which I heard.

8 Happy are thy men, happy are these thy servants, which stand continually before thee, and that hear thy wisdom.

9 Blessed be the LORD thy God, which delighted in thee, to set thee on the throne of Israel: because the LORD loved Israel for ever, therefore made he thee king, to do judgment and justice.

10 And she gave the king an hundred and twenty talents of gold, and of spices very great store, and precious stones: there came no more such abundance of spices as these which the queen of Sheba gave to king Solomon.

11 And the navy also of Hiram, that brought gold from Ophir, brought in from Ophir great plenty of almug trees, and precious stones.

12 And the king made of the almug trees pillars for the house of the LORD, and for the king's house, harps also and psalteries for singers: there came no such almug trees, nor were seen unto this day.

13 And king Solomon gave unto the queen of Sheba all her desire, whatsoever she asked, beside that which Solomon gave her of his royal bounty. So she turned and went to her own country, she and her servants.

14 ¶ Now the weight of gold that came to Solomon in one year was six hundred threescore and six talents of gold,

15 Beside that he had of the merchantmen, and of the traffick of the spice merchants, and of all the kings of Arabia, and of the governors of the country.

16 ¶ And king Solomon made two hundred targets of beaten gold: six hundred shekels of gold went to one target.

17 And he made three hundred shields of beaten gold; three pound of gold went to one shield: and the king put them in the house of the forest of Lebanon.

18 ¶ Moreover the king made a great throne of ivory, and overlaid it with the best gold.

19 The throne had six steps, and the top of the throne was round behind: and there were stays on either side on the place of the seat, and two lions stood beside the stays.

20 And twelve lions stood there on the one side and on the other upon the six steps: there was not the like made in any kingdom.

21 ¶ And all king Solomon's drinking vessels were of gold, and all the vessels of the house of the forest of Lebanon were of pure gold; none were of silver: it was nothing accounted of in the days of Solomon.

22 For the king had at sea a navy of Tharshish with the navy of Hiram: once in three years came the navy of Tharshish, bringing gold, and silver, ivory, and apes, and peacocks.

23 So king Solomon exceeded all the kings of the earth for riches and for wisdom.

24 ¶ And all the earth sought to Solomon, to hear his wisdom, which God had put in his heart.

25 And they brought every man his present, vessels of silver, and vessels of gold, and garments, and armour, and spices, horses, and mules, a rate year by year.

26 ¶ And Solomon gathered together chariots and horsemen: and he had a thousand and four hundred chariots, and twelve thousand horsemen, whom he bestowed in the cities for chariots, and with the king at Jerusalem.

27 And the king made silver to be in Jerusalem as stones, and cedars made he to be as the sycomore trees that are in the vale, for abundance.

28 ¶ And Solomon had horses brought out of Egypt, and linen yarn: the king's merchants received the linen yarn at a price.

29 And a chariot came up and went out of Egypt for six hundred shekels of silver, and an horse for an hundred and fifty: and so for all the kings of the Hittites, and for the kings of Syria, did they bring them out by their means.
1 Kings 10:1-13 – ​"The Half Was not Told Me"
​
   Sheba, to the Jewish mind, was at the ends of the earth, Matthew 12:42. It probably lay in southern Arabia, fifteen hundred miles from Jerusalem. The queen brought munificent presents of spices, gold, precious stones, and sweet-scented wood. The last-named Solomon used for musical instruments and for stairs in his Temple and palace, II Chronicles 9:11. But the queen's heart was set on plying him with hard questions, for which she had sought in vain a satisfactory solution.
   We may come to "a greater than Solomon" (Matthew 12:42). Our native country may lie far away, but He will receive us, and give us the right to live forever in His palace, listening to His words and beholding His face. Let us bring Him, as our gifts, the faith, love, and loyalty of our hearts. Above all, let us lay before Him our perplexities and questions. He may not immediately reveal an answer, as Solomon did, but will put His Spirit into our hearts. And having the anointing of the Spirit, we shall know all things, I John 2:27. Though the mind cannot grasp, the heart will be at rest. The Bible, as someone says, does not teach us philosophy, but makes us philosophers. Be sure to obtain and use your share of His royal bounty.
1 Kings 10:9—Blessed be the LORD thy God, which delighted in thee.

   There were two reasons why Solomon was on the throne. First, because of God's love to him; secondly, because of God's love to Israel. May we not address our Savior with similar expressions of gladness as those which the queen addressed to a less than He?
   How well it is, now and again, to let ourselves go in exuberant adoration! Prayer is good, but it may revolve too largely about our own needs and desires: thanks are right, when we have received great benefits at His hands; but praise is best, because the heart forgets itself and earth and time, in enlarged conceptions of its adorable Lover and Savior.
   We are reminded in this connection of a noble hymn of old John Ryland:–

       "Thou Son of God, and Son of Man,
          Beloved, adored Emmanuel,
       Who didst, before all time began,
          In glory with Thy Father dwell:

       "We sing Thy love, who didst in time,
          For us, humanity assume,
       To answer for the sinner's crime,
          To suffer in the sinner's room.

       "The ransomed Church Thy glory sings,
          The hosts of heaven Thy will obey;
       And, Lord of lords, and King of kings,
          We celebrate Thy blessed sway."

   We can never praise Him enough. Our furthest thoughts fall short of the reality. His wisdom and prosperity exceed His fame. No question He cannot answer; no desire He cannot gratify; no munificence He cannot excel. Happy are they who stand continually before Him. Let us see that this is our happy privilege; not content to pay Him a transient visit, returning to our own land, but communing with Him always of that which is in our heart.
1 Kings 10:14-29 – ​"Solomon in All His Glory"
​
   How dazzling is this description of Solomon's glory! And yet our Lord said that it was excelled by a single lily of the field, Matthew 6:28. Solomon's glory was put on from without; the real beauty is that which unfolds from within. If only your soul is planted in the soil of God's grace, it will array itself in the beauties of a holy life. The stainless robes are those which are washed in the blood of the Lamb.
   Observe again—this was not the glory of June, but of October. Already the germs of disease were in Solomon's heart; already the autumn decay was in the air. The secret is told in the significant words of Nehemiah 13:26. Among many nations there was none like him and he was beloved of his God, but strange women were turning away his heart. It was a true statement that our Lord made concerning the rich, that with difficulty they enter the Kingdom. A holy man had good reason to pray earnestly for a young believer, who had suddenly come into a large estate.