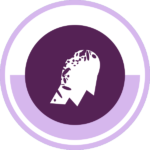 Man cannot, in himself, be justified before God for he has no merit of his own to extenuate his guilt.
1 Then answered Bildad the Shuhite, and said,
2 Dominion and fear are with him, he maketh peace in his high places.
3 Is there any number of his armies? and upon whom doth not his light arise?
4 How then can man be justified with God? or how can he be clean that is born of a woman?
5 Behold even to the moon, and it shineth not; yea, the stars are not pure in his sight.
6 How much less man, that is a worm? and the son of man, which is a worm?
Job 25 – How Can Man Be Just before God?
​
   Bildad's closing speech adds little to the controversy. He suggests simply that Job's vindications of himself do not imply that he is righteous before God, and, acting upon the philosophy of the time, Bildad prefers to consider that Job is guilty of unrealized sins rather than believe that God has permitted suffering to come to Him unmerited.
   There are some unanswerable questions in this paragraph—suggestions full of helpfulness. God's armies are numberless—ten thousand times ten thousand, and every angel is pledged to our help. His light shines everywhere, even on the saddest hearts. Not one of us can be just before Him, but we may avail ourselves of the justifying righteousness of Christ, which, as Bunyan says, is always the same, not increased by our good frames of mind or lessened by our bad ones. None of woman born are clean, but the blood of Jesus Christ cleanses from all sin. Moon and stars pale and pass away, but God hath set His heart upon His saints, and hath adopted them into His family. And when the fabric of nature shall have decayed, they shall shine as the sun in the kingdom of their Father. —Through the Bible Day by Day
Find the missing words then click and drag the letters in the grid below. Click "Start"
4 How ________ can ______ be __________________ with ______? or ______ can he be __________ that is ________ of a __________?
Job 25:4—How then can man be justified with God?

   This is the question of the ages. Man knows that he is as a worm, and worse. For no animal, however humble, has consciously and determinedly broken the law of God, and defiled its nature.
   Our first effort is to go about to establish a righteousness of our own. Repeated failure only aggravates our misery and chagrin, till we fall helpless at the foot of Sinai. Our vows are broken, the law of God lies shivered around us, the thunders and lightnings make us afraid. Then God in the Person of Jesus comes to our help. First, He meets and satisfies the demands of the broken law, so that it can ask no more. With His own hands He works out, and brings in, everlasting righteousness. And finally, He produces in us that faith by which His finished work is applied to our conscience and heart.
   By the works of the law shall no flesh be justified in His sight; for by the law is the knowledge of sin. But we are justified freely by His grace through the redemption that is in Christ Jesus, whom God bath set forth to be a propitiation. God is Himself the Justifier of the ungodly. "Whom he called, them he also justified" (Romans 8:30). He takes oft the filthy garments, and clothes us in change of raiment.
   But the condition is faith. We must believe in Him who justifieth the ungodly. They who believe are justified from all things. Being justified by faith, we have peace with God, through our Lord Jesus Christ. We are not saved by believing about His work, but in Himself. The Greek of John 3:16 might be rendered, Whosoever even believeth into Him. The motion of faith is ever toward the heart of Him who died, and rose, and lives. Then through our faith the Spirit produces a holy character. —Our Daily Homily
Job 25:4 – Since man, by reason of his fallen state and corrupt nature is odious to God's holiness, even in his best righteousness, we have need to be born again, that being justified by faith in Christ, we may have peace with God. Romans 5:1.