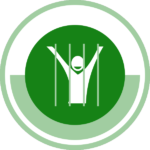 The believer's hope and prospect through our Lord Jesus Christ, should engage him to be steady, even and constant in his Christian course, rejoicing always in Him through Whom he has the peace of God, the very presence of the God of peace, and promises that should remove all anxious care. He will give strength for all things, whether to do or bear. He will supply every need of the trusting soul.
1 Therefore, my brethren dearly beloved and longed for, my joy and crown, so stand fast in the Lord, my dearly beloved.

2 I beseech Euodias, and beseech Syntyche, that they be of the same mind in the Lord.

3 And I intreat thee also, true yokefellow, help those women which laboured with me in the gospel, with Clement also, and with other my fellowlabourers, whose names are in the book of life.

4 Rejoice in the Lord alway: and again I say, Rejoice.

5 Let your moderation be known unto all men. The Lord is at hand.

6 Be careful for nothing; but in every thing by prayer and supplication with thanksgiving let your requests be made known unto God.

7 And the peace of God, which passeth all understanding, shall keep your hearts and minds through Christ Jesus.

8 Finally, brethren, whatsoever things are true, whatsoever things are honest, whatsoever things are just, whatsoever things are pure, whatsoever things are lovely, whatsoever things are of good report; if there be any virtue, and if there be any praise, think on these things.

9 Those things, which ye have both learned, and received, and heard, and seen in me, do: and the God of peace shall be with you.

10 But I rejoiced in the Lord greatly, that now at the last your care of me hath flourished again; wherein ye were also careful, but ye lacked opportunity.

11 Not that I speak in respect of want: for I have learned, in whatsoever state I am, therewith to be content.

12 I know both how to be abased, and I know how to abound: every where and in all things I am instructed both to be full and to be hungry, both to abound and to suffer need.

13 I can do all things through Christ which strengtheneth me.

14 Notwithstanding ye have well done, that ye did communicate with my affliction.

15 Now ye Philippians know also, that in the beginning of the gospel, when I departed from Macedonia, no church communicated with me as concerning giving and receiving, but ye only.

16 For even in Thessalonica ye sent once and again unto my necessity.

17 Not because I desire a gift: but I desire fruit that may abound to your account.

18 But I have all, and abound: I am full, having received of Epaphroditus the things which were sent from you, an odour of a sweet smell, a sacrifice acceptable, wellpleasing to God.

19 But my God shall supply all your need according to his riches in glory by Christ Jesus.

20 Now unto God and our Father be glory for ever and ever. Amen.

21 Salute every saint in Christ Jesus. The brethren which are with me greet you.

22 All the saints salute you, chiefly they that are of Caesar's household.

23 The grace of our Lord Jesus Christ be with you all. Amen.

¶ It was written to the Philippians from Rome by Epaphroditus.
Philippians 4:1-9 – ​Inspiring Exhortations
​
What a strong and faithful heart was Paul's! Poor and despised though he was, he had both joys and crowns of which no hostile force could deprive him. He lived in the encompassing atmosphere of eternity, as we may. Surely these two Christian women could not have withstood this tender exhortation; and all his fellow-workers must have been heartened by the thought that their names were dear to Christ, and entered in the birthday book of the twice-born.
Joy and peace are the subjects of the next paragraph. How wonderful that these struggling little churches were drinking of springs of which the princes and citizens of Greece and Rome knew nothing. Note the conditions. We must be moderate in our ambitions and gentle in our behavior. We must ever practice the presence of our Lord—He is always at hand. We must turn over all causes of anxiety to the Father's infinite care and leave them with Him. We must thank Him for the past, and count on Him for the future. While we pray, the Angel of Peace will descend to stand as sentry at our heart's door. But we must possess the God of peace as well as the peace of God—the one condition being that we must earnestly pursue all things that are true, just, pure, and lovely. —Through the Bible Day by Day
Philippians 4:6—Be careful for nothing.

​   Black care! It has always been among men, and perhaps more so today than ever, when the pressure of life is heavier and the constraint of circumstances more imperious. Are there not hours in which the clouds gather densely over the Ark of God, and the stoutest hearts tremble? Is it easy for even the Christian soul to look on a family of little ones, sleeping soundly, and know that they will certainly awake hungry for food, of which the cupboard is bare, and have no tinge of anxiety?
   It is at such times that the apostle bids us pray. "Let your requests be made known unto God." We have not to agonise before Him, as though, like the priests of Baal, who cried and cut themselves, we shall move Him by our anguish. Calmly, quietly, simply, make your requests known. Take your burden into his presence and lay it down there. He is your Father. He who made the body, and gave it you, will see to the supply of its needs. Your health, your children, the condition of his Church, are dear to Him who notices a falling sparrow, and by whom the very hairs of your head are all numbered.
   We shall not escape life's discipline. We may expect to abound here, and to be abased there. But amid all, Peace, God's white-winged sentinel-angel, shall come down to keep the heart with its affections, the mind with its thoughts. Worry, unrest, anxiety will stand without, as the noise of the street breaks in vain on the double windows of the city counting-house, the child of God learns humbly and patiently the lesson of his Father's love. Careful for nothing; prayerful and thankful in everything. —Our Daily Homily
Philippians 4:10-23 – ​"My God Shall Supply All Your Need"
​
   The Apostle had been glad to receive the gifts of his friends, because these evidenced their earnest religious life. It was fruit that increased to their account. On his own part he had learned one of the greatest of lessons—contentment with whatever state he found himself in. This is a secret that can only be acquired by our experience of life in the will of God. When once the soul lives in God and finds its highest ideal in the fulfillment of His will, it becomes absolutely assured that all things which are necessary will be added. All things are possible to those who derive their daily strength from God.
   It is wonderful to hear Paul say that he abounded, Philippians 4:18. A prison, a chain, a meager existence! The great ones of the world would have ridiculed the idea that any could be said to abound in such conditions. But they could not imagine the other hemisphere in which Paul lived; and out of his own blessed experience of what Christ could do, he promised that one's every need would be supplied. God's measure is his riches in glory; and his channel is Jesus Christ. Let us learn from Philippians 4:18 that every gift to God's children which is given from a pure motive is acceptable to Him as a fragrant sacrifice. That reference in Philippians 4:22 shows that Paul was making good use of his stay in Rome! —Through the Bible Day by Day